Creating an impactful brand means more than just a great looking logo. It's true, a logo is an important asset to your brand and needs to be well thought out but it's not the only element to consider when you launch a new product or service to market. To create a brand that has real value and can easily connect with your customers, you need to consider 5 key areas:
1. Brand Values
What are your brand values? What does it stand for?
What makes it special?
Brand values are a set of guiding principles that shape every aspect of your business. They're placed at the heart of your brand and are there to help you define and drive your brand message, identity and personality.
Each brand has its own set of values, representing how it wants to be perceived in its marketplace. Values are there to evoke a positive feeling towards a brand, often through the representation of reassuring keywords such as; quality, leadership & innovation. Brand values should be genuine. It's important to be honest and transparent about your ethos as trust is difficult to build in an ever-moving, digital world. If your brand stands for transparency but is then caught hiding something, customer's trust and loyalty to the brand will start to decline.
Although there may be many values that represent your brand, it's key to focus on finding your top 3-5 values so you can demonstrate these in your content.
2. Target audience
Who are you aiming to attract and how are they to connect with your brand? Why are they buying from your brand over the other? Is your product or service wanting to attract particular demographics?
Selecting one brand over another is a personal choice and therefore you must think of ways to create real connections to your brand once your values are determined. In order to attract the right sort of clients, you need to consider who they really are.
Target audiences are formed from different groups. To market to any given audience effectively, it is essential to become familiar with your target market; their habits, behaviours, likes, and dislikes.
When identifying your target audience, there are 4 segments you should think about: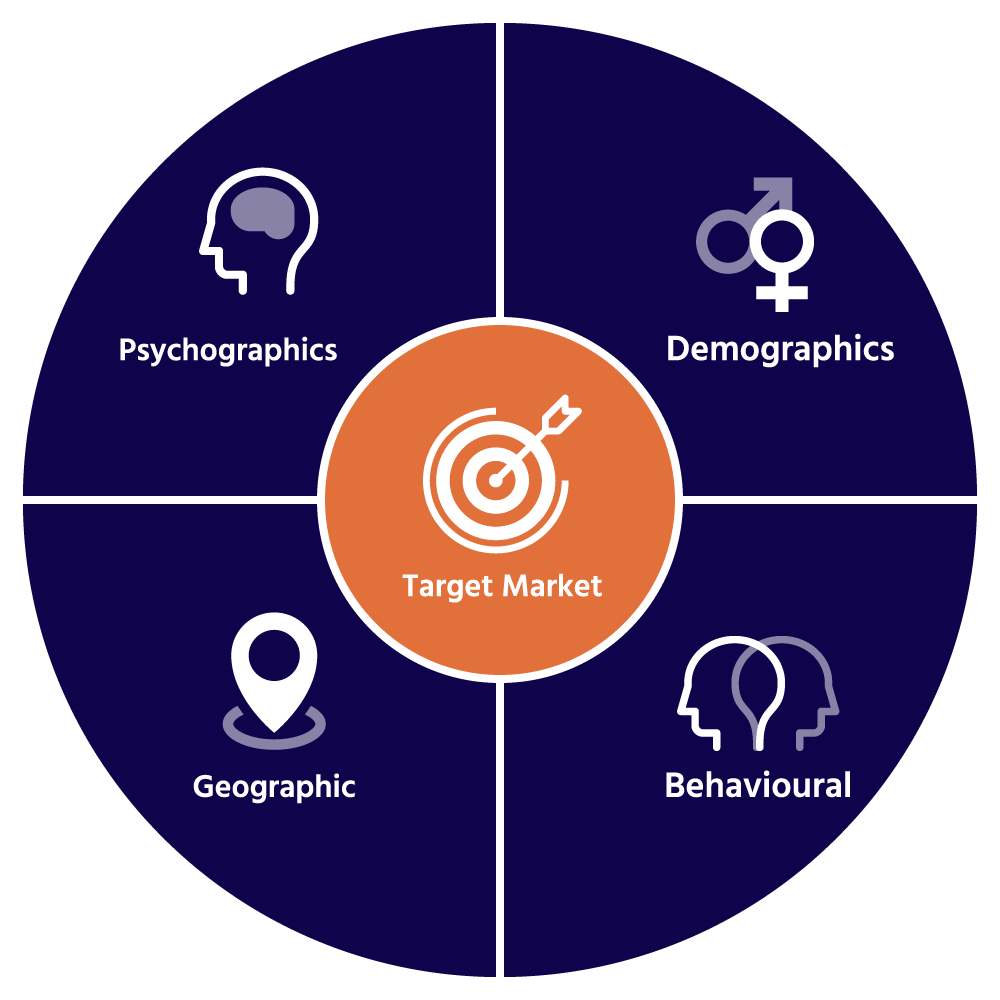 Psychographics - Psychographics are the attitudes, interests, personality, values, opinions, and lifestyle of your target market.
Demographics - Demographics may include cursory information such as gender, age, income and marital status.
Geographic - Geographic relies on the physical location of a consumer's residence, place of business or site of visiting to determine whether the consumer falls within the business's targeted group.
Behavioural - Behaviour refers to a marketing segmentation process in which customers are divided by their behaviour patterns when interacting with a business. The four main types of behavioural segmentation are based around purchase behaviour, occasion-based purchases, benefits sought, and customer loyalty.
By considering the above 4 segments and identifying your target audience you can then build this into your marketing strategy. Considering where to market and what channels to use to drive optimum lead generation as you are targeting your ideal customers in all the right places.
3. Tone of voice
How will you talk to your customers?
This is a crucial aspect of your brand that often gets overlooked. Once you know who you are trying to attract, then it's time to think about effectively communicating to them. This should be inline with your key brand values to ensure they complement one another.
Brand tone of voice is the mood or emotion you convey in messages to your audience through specific word choice and writing style. Essentially, it's how you express your brand voice.
What will it be?
Passionate vs. matter-of-fact
Quirky vs. traditional
Confident vs. unassuming Reliable vs. unpredictable
It's very useful to create a tone of voice style guide to remind yourself of your key approaches. For example:


Brand Tone of Voice Table
| Attribute | Description | Do | Don't |
| --- | --- | --- | --- |
| Passionate | We are passionate about... | Use strong verbs Be a champion for... Be a cheerleader | Be lukewarm or wishy-washy Use passive voice |
| Quirky | We are not afraid to challenge the status quo and be different | Use unexpected examples Take the opposite point of view | Use too much slang or obscure references Lose sight of the audience and core message |
| Confident | We are leaders in our field | Speak authoritatively Introduce new concepts | Express uncertainty Present information without data to back it up Speak passively |
| Reliable | Our customers can count on getting the service/information they need | Be honest and direct Take responsibility for mistakes Follow through | Oversell capabilities Leave conflicts unresolved Fail to respond |
4. Visual Identity
What should your brand look like? What typography should you use? Which communication channels do you need to consider?
Your brand identity includes all the visual elements associated with your brand, from your logo and typography to colours, product packaging design, website design, and even your social media graphics. Typically, any brand asset is a component of your brand identity.
It's important to remember that all of your identity choices should take into account all previous points: your values, your target market and your tone of voice.
It wouldn't make sense to create a quirky logo and funky typography with some pop colour choices if your target customers prefer more traditional, formal styles or colours. You need to make sure your visual identity is speaking to the target audience you want to reach.
A good visual identity is:
Distinct - It's unique and stands out from the crowd.
Memorable - It makes an impression.
Scalable - It should be able to grow with your brand, whether you're branching out into new products, services, or even new industries. As you go through the process of designing, remember that you aren't just designing for today. You're designing for your brand's future.
Flexible - It works across different mediums, digitally or printed
Cohesive - Every brand asset works together.
Easy to apply - You want to equip your team with the tools they need to do their job properly, so make sure your brand assets are intuitive to use and you provide them with the relevant guidelines.
Once your brand identity and core assets are defined, a brand guideline document can be created. This should be a succinct and clear outline of your brand and visual assets so that anyone in your organisation can pick this up and understand how to use all brand assets.
What to include in your visual identity pack?
These are the core elements that any brand identity needs:
Logo
Colour palette
Typography
Photography
Illustration
Iconography
5. Consistency
Does it look consistent across all channels?
Our final point to consider is brand consistency. Brand consistency ensures that your brand is easily recognisable across all marketing channels and touchpoints. This creates a cohesive consistent brand identity and unified experience for both existing and potential customers.
The most obvious reason why brand consistency is so important is that it leads to brand recognition. As a business, this is what you should always strive for, to be immediately recognisable by your target audience, no matter where your brand sits.
By delivering consistent brand communications, you help create long lasting connections between yourselves and your customers. By doing so, customers are more likely to connect to your brand on a personal level, triggering the right emotions so customers feel part of your brand and what it stands for, ultimately leading to brand and customer loyalty.
Get in touch
Having a well thought out brand is crucial in creating long lasting, memorable brands. There are so many more considerations when creating your brand identity such as; what a brand guideline pack should include, how to apply this across your business and your launch marketing strategy going forwards.
If you are looking for support in creating your brand identity or want us to help you with your brand project, get in touch on: hello@circle-sd.com